Driver training and education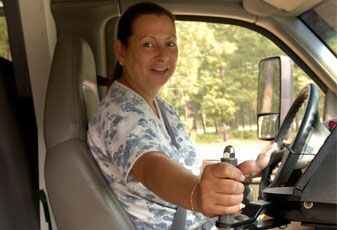 People are the foundation of our business. That's why we begin by hiring drivers who share our passion for safety. Then we provide them with training to ensure a high level of competence in their jobs.
Our Driver Education and Training Program is comprised of a comprehensive set of modules delivered in the classroom and behind-the-wheel. In addition to safety and driving proficiency, our training ensures that drivers have the skills and sensitivity to deal confidently with any situation they may encounter.
Classroom Training Modules:
Responsibilities of the Bus Company
Responsibilities of the Bus Driver
Meet the Bus
Pre & Post Trip Inspections
Mirror Adjustments & Reference Points
Check your Brakes
Safety Essentials
Defensive Driving
Intersections
Safe Backing
Railroad Crossings
Danger Zones
Student Management and Conflict Resolution
Safe Bus Stops
Emergency Evacuations
Post-Accident Procedures
Epi Pen Procedures
Smart Driver for School Buses
Human Rights and Diversity Training
Behind the Wheel Training Modules
Vehicle & Brake Inspection
Following Distance
Left Turns
Right Turns
Mirror Adjustments
Use of signals and Horn
Student Loading
Student Unloading
Use of Accelerator and Brakes
Intersections
Railroad Crossings
Defensive Driving
Backing
Merging and Lane Changing
Pedestrian Awareness
Child Check & Post-Trip Inspections